How to correctly create outdoor garden lighting? Especially with so many tempting new products: landscape lights, wall washers, spotlights, floodlights, and colored light strips, all of which look glamorous.
Garden lighting generally serves two purposes. One is to provide functional lighting to increase safety in courtyard areas. The second is to beautify the appearance and create a stylish and attractive outdoor light environment.
When remodeling a yard, yard lighting can have a huge impact on even a small flowerbed along a yard wall. The use of different lighting products will produce different lighting effects, and the selective use of garden lighting products can add to the scenery of the courtyard. Sottlot New Energy is introducing four stylish, smart solar-powered lighting fixtures for outdoor patio lighting this year.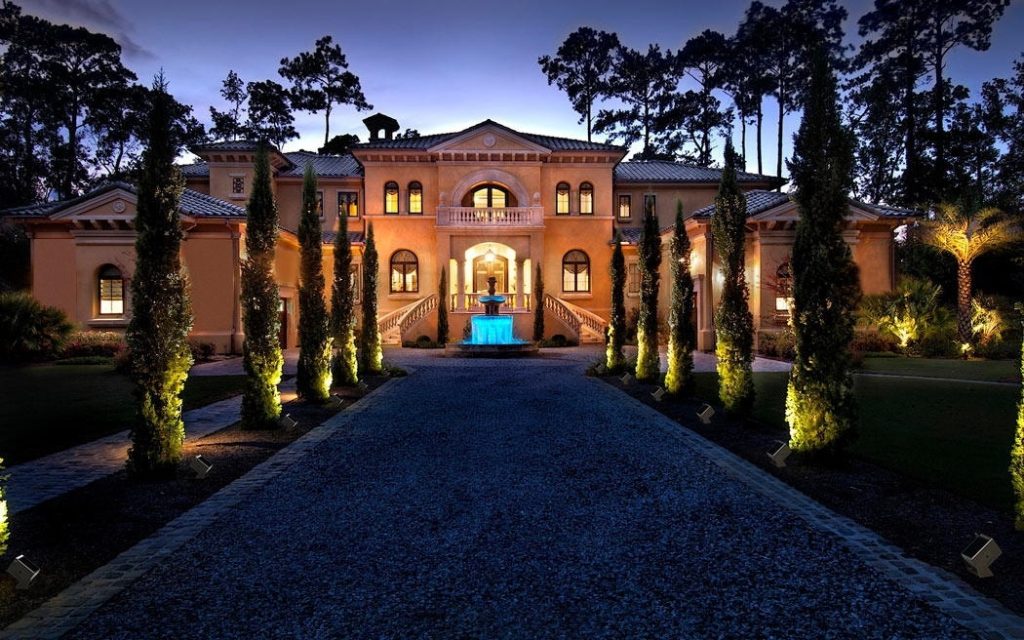 Four Seasons Landscape Lighting——Polar Series
Most of the outdoor solar light fixtures on the market are difficult to provide long-term lighting for the yard during the winter snow season. For this point, Sottlot New Energy's lighting fixtures can meet the lighting requirements for 7 consecutive days of rainy and snowy days, and maintain stable lighting.
In spring and summer, homeowners will spend more time in the courtyard enjoying outdoor dining or activities with family and friends. In the autumn and winter seasons, homeowners need to consider adding more exterior walls and plant lighting to eliminate the coldness in winter and increase the view of the courtyard.
The Polar series is divided into spotlights and up and down lights.
Polar up and down spot light is suitable for installation on the exterior walls of buildings and courtyards to create an appearance with rich light and shadow levels and an artistic sense. Homeowners can install in two, three, or five pairs according to the seasonal changes, the design of the width, range, and angle of the beam, and use Polar up and down spot light to create an eye-catching modern look.
Using Polar spot lights to illuminate evergreens in yard is also a great way to add color and life to winter garden. Well-lit trees will be beautiful year-round focal points, making the garden the envy of the neighbors.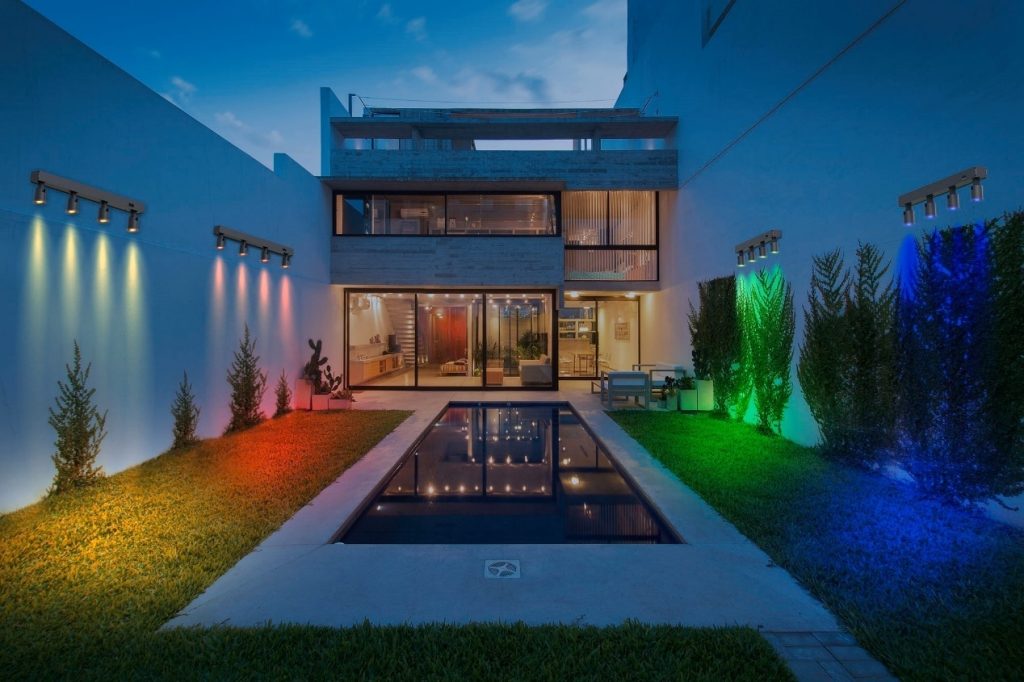 Wonderful mood lighting – Infinex spot light
The courtyard is a living place, which carries the homeowner's various life atmospheres – planting trees, growing flowers, having barbecues, and holding events. Therefore, the atmosphere of the courtyard is very important, and beautiful lighting can help homeowners create a wonderful festive atmosphere and lively atmosphere.
Infinex spot light has 16 million colors and 2700K-6500K color temperature adjustment. Homeowners can match colors and tones according to the occasions that need to be arranged to create lighting effects.
In festivals, choose bold colors such as green, purple, and orange of Infinex spot light to create a magical and dramatic sense of Halloween; consider using traditional red and green of Infinex spot light for Christmas to create a cheerful and festive atmosphere; choose blue and white colors of Infinex spot light for a cool, fresh New Year's look.
On important days, such as holding a wedding, homeowner need to match the wedding theme, choose specific colors such as pink, green, and blue of Infinex spot light to create a romantic dinner or pool party.
If a homeowner just to have dinner on the terrace or for daily entertainment, warm colors are more suitable. The color temperature of Infinex spot light can be adjusted from 2700K to 6500K, from golden warm light to soft white light. No matter which color be used , people will feel relaxed and lingering.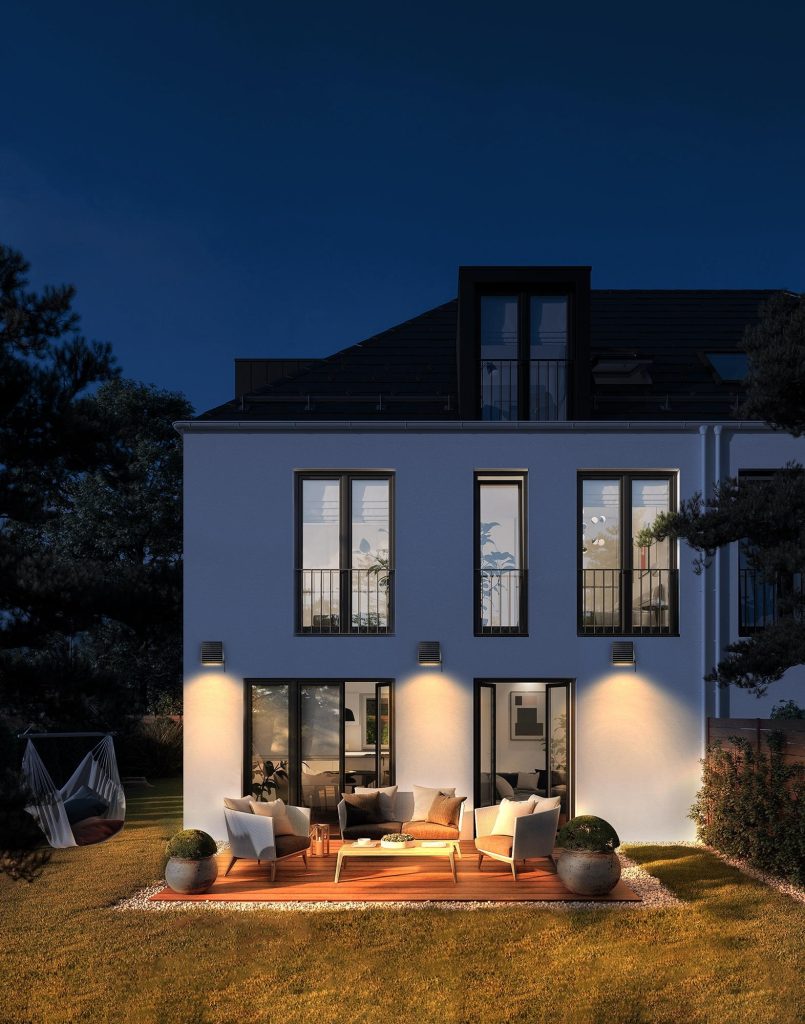 Soft and bright lighting – Navigator wallpack flood light
Floodlights emit highly diffuse, non-directional light rather than creating sharp-edged light. Floodlights have a wide beam angle and can cover a wide area, which spotlights cannot do. Therefore, the shadow produced by the floodlight will be softer and more transparent, which is suitable for creating a charming enjoyable space and making the courtyard look warm and romantic.
The Navigator wallpack flood light has the advantage of wide, bright lighting compared to other high-diffusion flood lights. Uniform light creates a feeling of openness and brightness, and soft shadows add depth to the space, bringing a perfect balance of light and shadow. The Navigator wallpack flood light helps homeowners create a light-filled space that feels relaxing and private at the same time, feeling like a new space extending from a gentle interior.
With the wide, bright lighting range of the Navigator wallpack flood light (illuminating a 30-meter area), homeowners can clearly see what's going on in the yard. Homeowners can cooperate to check the cameras in the home and activate the smart intrusion mode of the lights at the same time to track what is happening in the yard at any time.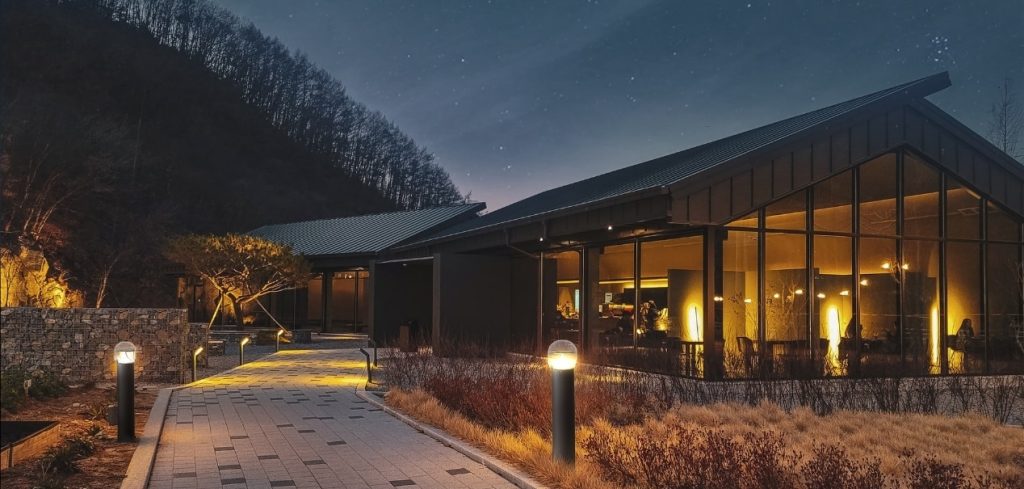 Dark Sky Eco-friendly Lighting —— Tracker bollard post light
Dark Sky Eco-friendly Lighting is a lighting technology designed to help communities, parks and reserves be more energy efficient and reduce light pollution. Dark Sky Eco-friendly Lighting can be used in any residential setting and is especially useful for homeowners looking to protect their view of the stars from light pollution.
Tracker bollard post light is an original design landscaping light for Dark Sky Eco-friendly Lighting, Tracker bollard post light solves one of the most important things for homeowners —— designed for eco-friendly lighting.
The Tracker bollard post light uses LED specific wavelengths of light to shine light downward without producing upward light or damaging glare, which is very friendly to wildlife. A built-in solar sensor in the Tracker bollard post light automatically dims or turns off the light when not needed, eliminating light pollution and preserving a pure view of the night sky.
Sotllot New Energy focuses on the R&D and manufacturing of solar intelligent lighting, and has an internationally leading technical team. Sottlot New Energy has created a series of intelligent system solutions for outdoor application scenarios such as villa courtyards to meet the different needs of users for intelligent lighting in villa courtyards, and to achieve a high-quality life of "energy saving, environmental protection, health and comfort" for users.