What's the best way to regulate mood? –atmosphere. The atmosphere is a subtle feeling that can be affected by many factors, such as emotion, color, and living environment. Lighting is a powerful tool for adjusting the mood and atmosphere of an outdoor space. Sotllot New Energy's outdoor solar-powered spotlight Infinex spot light is specially designed for garden atmosphere lighting. Infinex spot light has a variety of lighting modes and lighting options, which can help homeowners relax and create an ideal lighting atmosphere during leisure and entertainment moments.
Modern design appearance, 360° multi-head free adjustment
Sotllot New Energy is inspired by indoor ceiling spotlights, because the designer of Sotllot New Energy hopes that the outdoor space of the villa can be as spacious, private and warm as the indoor space, and a personalized and unique leisure and entertainment atmosphere can also be created in the courtyard.
Infinex spot light is made of die-cast aluminum. The gray tone echoes the main style of architecture and gardens. The design is simple but not boring, giving the outdoor space a classic and generous texture. Infinex spot lights can be paired with any color scheme or an outdoor design element to add a stylish touch to a homeowner's home.
The Infinex spot light lamp head supports 360° horizontal rotation and 90° vertical rotation, and the lamp head can be adjusted freely. Infinex spot light provides single-head and multi-head options, which can not only decorate the wall well, but also allow the space to have more light sources and angles to choose flexibly.
High-quality and soft light, creating an exclusive mood atmosphere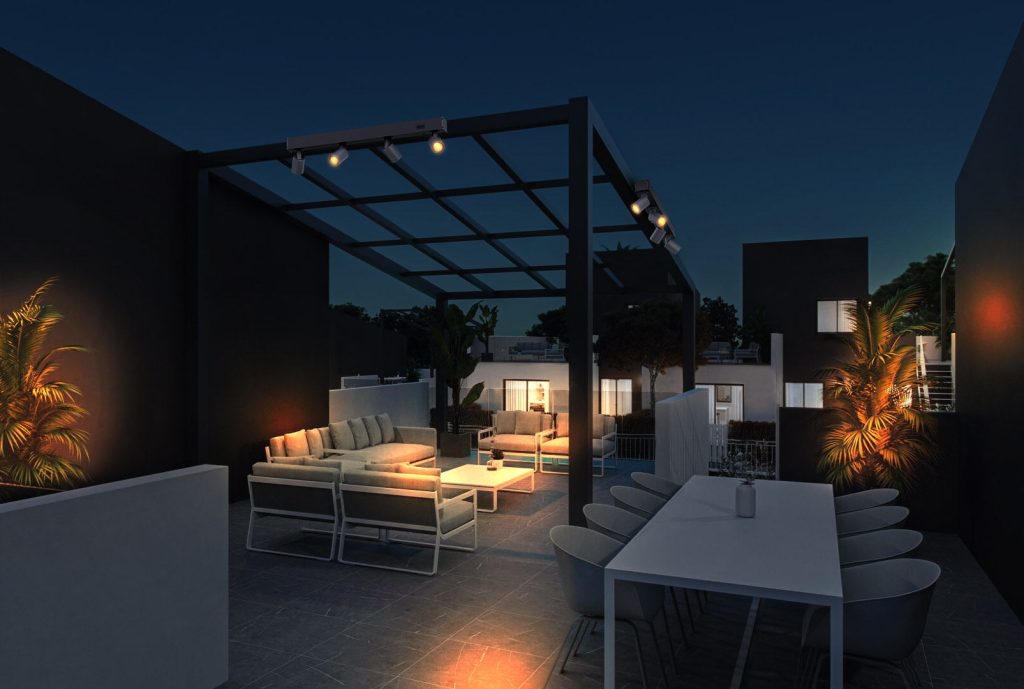 Infinex spot light has 230lm soft light, which can help homeowners create a relaxing and intimate atmosphere. With Infinex spot lights, homeowners can create a personal favorite ambiance in any outdoor space. Whether hosting a romantic dinner for two, a party for hundreds, or relaxing in the backyard, the Infinex spot light can help homeowners set the mood. Infinex spot light also supports intelligent lighting adjustment and multi-scene overlay settings, just controlled by Adelot APP, and lets Infinex spot light perform magic.
Infinex spot light is suitable for installation on the wall or ceiling of the courtyard. When the homeowner needs to hold a party for a long time, the Infinex spot light will provide the homeowner with comfortable light. Infinex spot light adopts Osram LED lamp beads, which have a high-quality, long-lasting and soft light source without glare and harsh light, so homeowners don't have to worry about Infinex spot light hurting eyes or making people feel dizzy.
Focus on water features, sculptures, and plants to create atmospheric lighting for the courtyard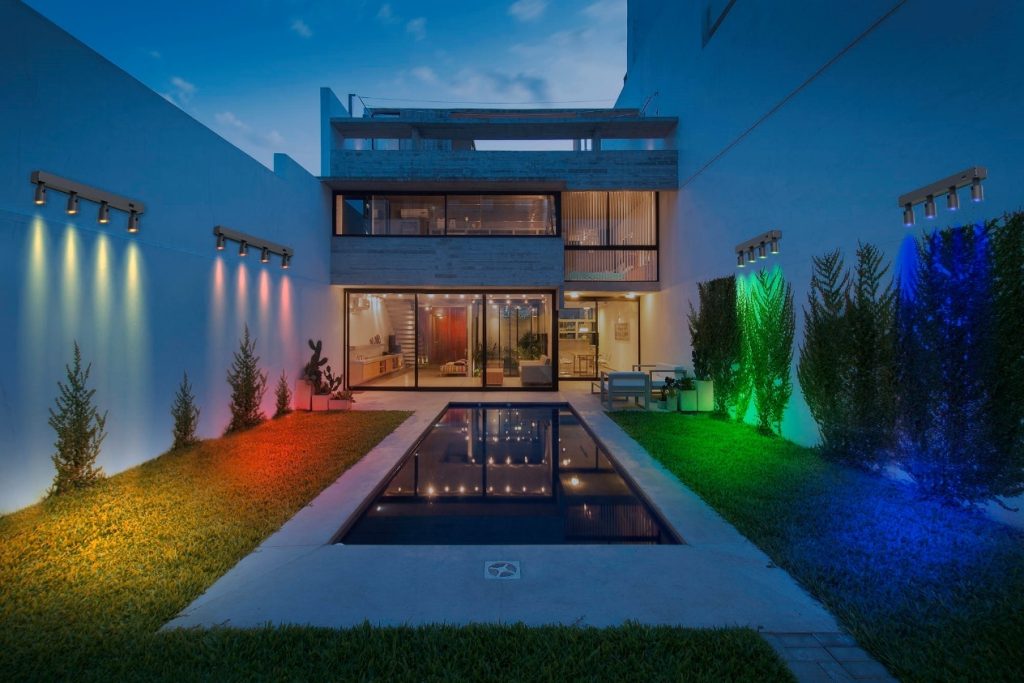 Spotlights are often used for landscape lighting to increase the visual appeal of a yard. Homeowners can use Infinex spot light to highlight special scenes in the garden, and combine Infinex spot light with water features, sculptures and plants to create ambient lighting for the surrounding scenes in the garden.
Homeowners can mount light fixtures on the wall to focus on small plants or decorations close to the wall to highlight the texture and color of the surface details of the scene; the light fixtures can also be placed on the ground and aim the light at large plants, fountains or sculptures to make The scenery creates a perspective effect and appears taller; or the light fixtures can be installed on the roof truss to illuminate the flowers, shrubs and vegetables in the garden to create a mysterious and moving cottage garden.
How to choose different lighting types of Infinex spotlight?
The Infinex spot light from Sotllot New Energy is simple to use and easy to install. Provide one head & four heads, high-mounted & pedestal-mounted, CW & RGB, a total of 8 combination styles to choose from. Infinex spot light can be used in various outdoor places to meet lighting needs in different outdoor environments, and homeowners can choose according to individual needs.
One head & Four heads:
one head type, suitable for installation on door walls and corners of eaves. Note that Infinex spot light is not very bright, but Infinex spot light is very beautiful as an atmosphere decoration; if the homeowner wants to install multiple lights on the spacious pergola in the backyard, or If homeowner wants to have more light sources and lighting angles, the four heads type will be more suitable.
CW and RGB:
The CW type supports 2700K~6500K warm light to cold light color temperature adjustment, and the light is more every day, suitable for creating a comfortable, lazy, quiet dining area or leisure area. The RGB type has 16 million color choices, with colorful, dynamic and dramatic atmosphere effects, suitable for use in festivals such as Halloween, Christmas, weddings, or passionate parties.
High-mounted & Pedestal-mounted:
The high-mounted type is suitable for installation on the wall or trellis, and casts light downwards, so that the scene has a uniform light. The pedestal-mounted type is suitable for placing on the ground and projecting light upwards will produce a wide-angle light effect, making the middle and bottom of the scene look full and magnificent.
Sotllot New Energy has created fashionable and smart solar lighting products with novel designs and advanced innovative concepts, which are particularly outstanding in terms of energy saving, quality and intelligence. The products are widely used in villas, courtyards, gardens and other outdoor lighting places, and are exported to more than 100 countries and regions such as Europe, America and Australia all year round. Sotllot New Energy is committed to helping people bring energy saving, environmental protection, comfortable and healthy life.