Technology changes the world, and geeks create new lives. The development of technology not only stimulates the iteration of new products, but also makes people's lives more intelligent. Sottlot is a new energy technology company that aims to provide smart home products for families around the world. It is a leading solar smart home creator in the industry. It adheres to the concept of "user experience first", focuses on technological innovation and the research and development of smart products, and is committed to create home products that extend the solar products to a home that every member of the family can use, and insist on sharing our passion with the world. Sottlot's consumer groups are all over the world,we are committed to creating an outdoor smart home ecosystem for middle-class families around the world and providing new energy products that realize intelligent scene services.
Facing the big market of smart home and the constantly iterative smart home technology, Sottlot's strategic layout covers scenarios from business, home to outdoor leisure and vacation, and creates a series of solar-powered smart devices that fully satisfy users. Our products have undergone rigorous market research, and based on the "innovation, technology, creative customization, and intelligence" solar smart home, we have developed innovative technologies that integrate products and AI technology. In order to meet customer needs, Sottlot transforms creative customization functions into practical solutions, and builds a solar-powered smart home ecosystem that covers users' lives in an all-round way; in order to ensure competitiveness in core products and speed up product launch, Sottlot has its own products have obtained a number of international certifications, invention patents, product patents, software copyrights, etc. The team has also developed ALS (Adaptive Lighting System), FAS (Fault Alarm System), TCS (Temperature Control System) three major Industry-leading core technology.
Solaraxy commercial series meets the commercial power supply needs of users. Through AI intelligence, Bluetooth technology, and IoT, it integrates intelligent technology and new energy technology, and is committed to creating solar outdoor intelligent products for high-end communities, villas, hotels and other large-scale outdoor venues provide lighting solutions. Solaraxy products are widely used in outdoor fields such as villa courtyards, commercial plazas, landscape parks, etc.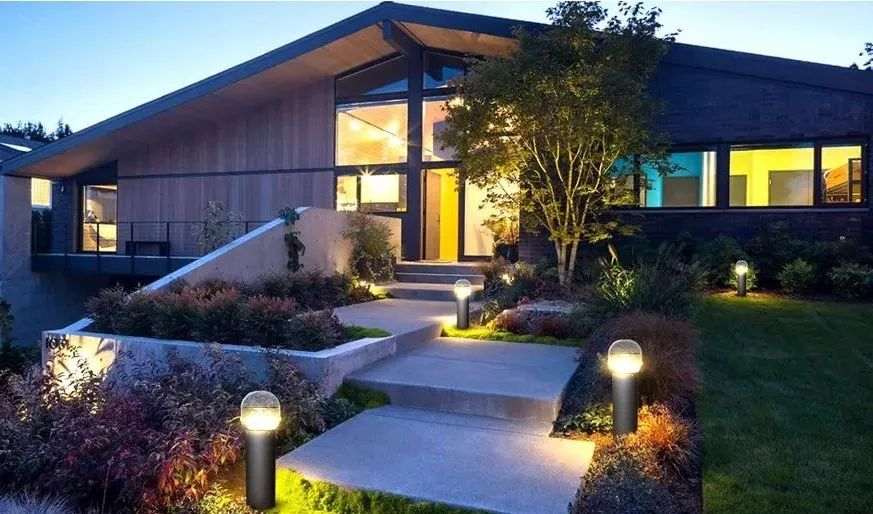 The Adelot home solar lighting series meets the outdoor lighting needs of users' homes,which focuses on lighting design. This series of products are intelligent light distribution lamps developed for the purpose of creating atmosphere and mobilizing emotions. It is good at creating a comfortable, relaxing and casual family atmosphere through the control of lighting, so that you can enjoy every moment in a smart and warm family life.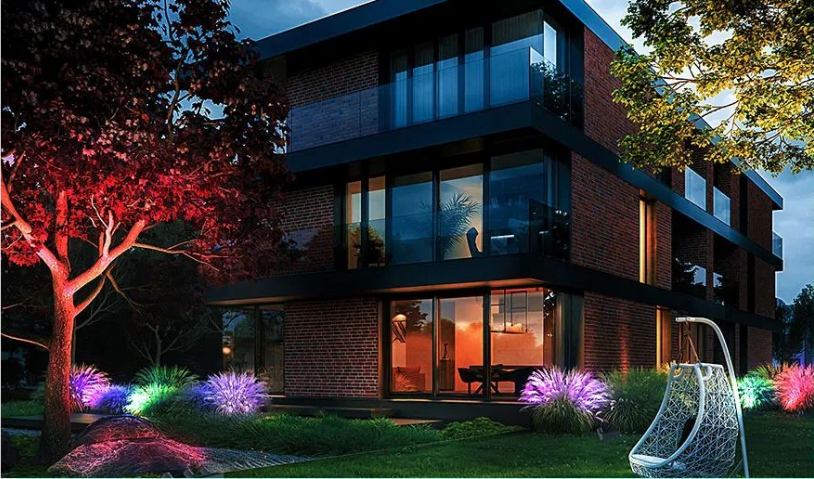 The gateway of Solaraxy and Adelot series products can also realize more intelligent functions such as people flow detection, power detection, and weather information acquisition.
The Alpha energy storage series meets the electricity demand for family outdoor travel,it is easy to carry. And it is the first product in the world to apply AI technology to energy storage equipment.The Alpha energy storage series aims to reduce the anxiety of electricity consumption during the journey and make users enjoy easier more interesting smart experience.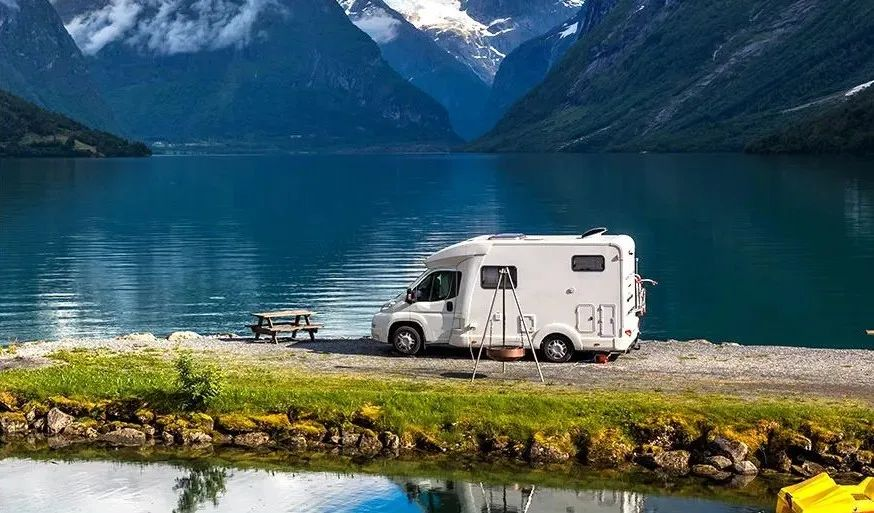 Adelot app is an application system independently developed by Sottlot that can control all Sottlot products.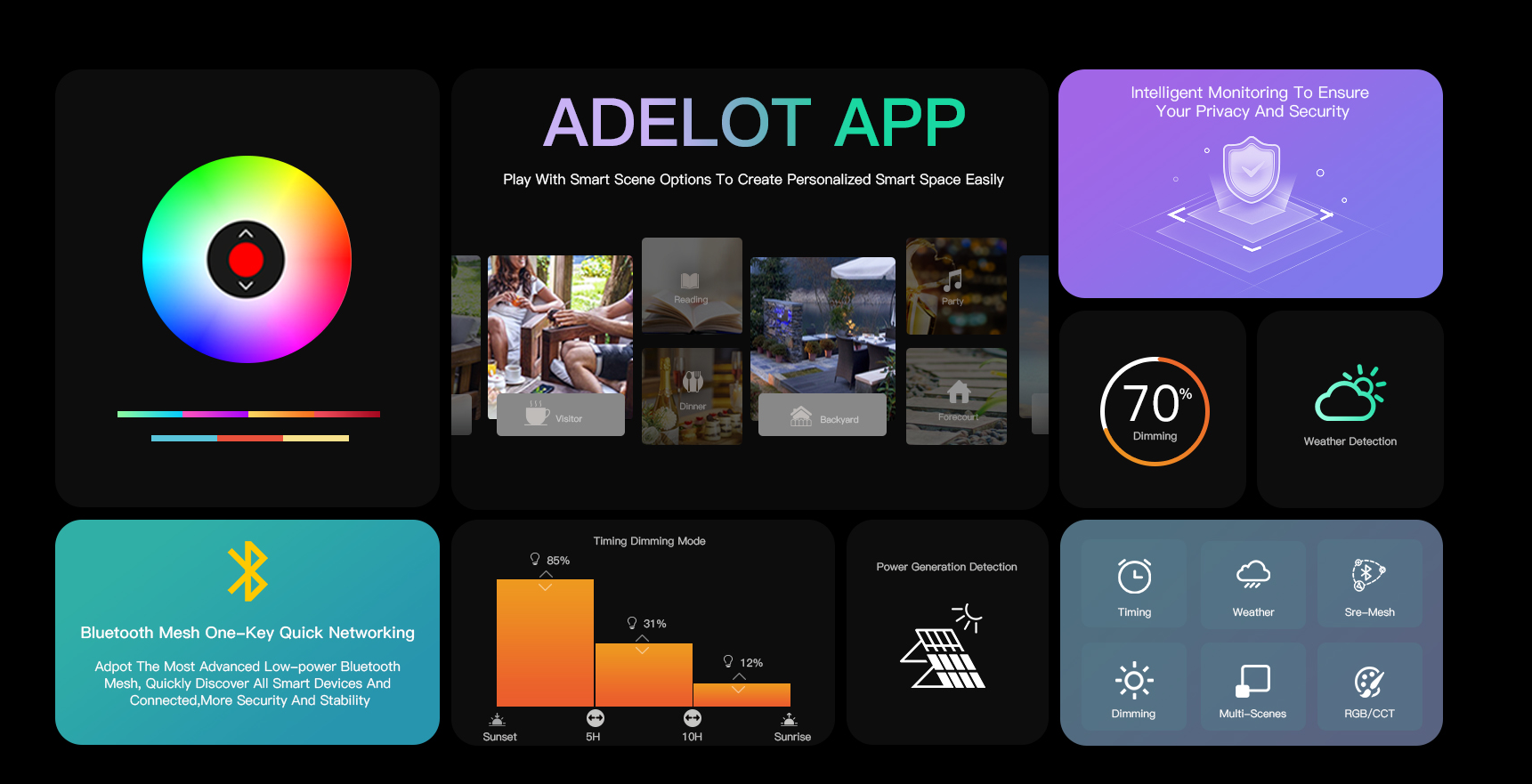 ALS technology is a solution developed for the short lighting problem of new energy lamps in bad weather and prolonging the lighting time in cloudy and rainy days. It breaks through the bottleneck of short lighting time in cloudy and rainy days. The technical principle of ALS is that when there is insufficient sunlight to charge in bad weather, the system will timely and intelligently calculate the energy usage and control of the battery, and give the maximum output efficiency to achieve the purpose of saving energy and prolonging the working time.

The FAS self-check function means that when the lamp fails, it can quickly find the specific module problem, so as to quickly determine the cause, solve the failure, and ensure efficient after-sales service. Its technical principle is that high-speed single-chip microcomputer is used to realize real-time self-checking of lamps and lanterns. Where the lamps fail, it is displayed by indicator lights, and different indicators represent different faults.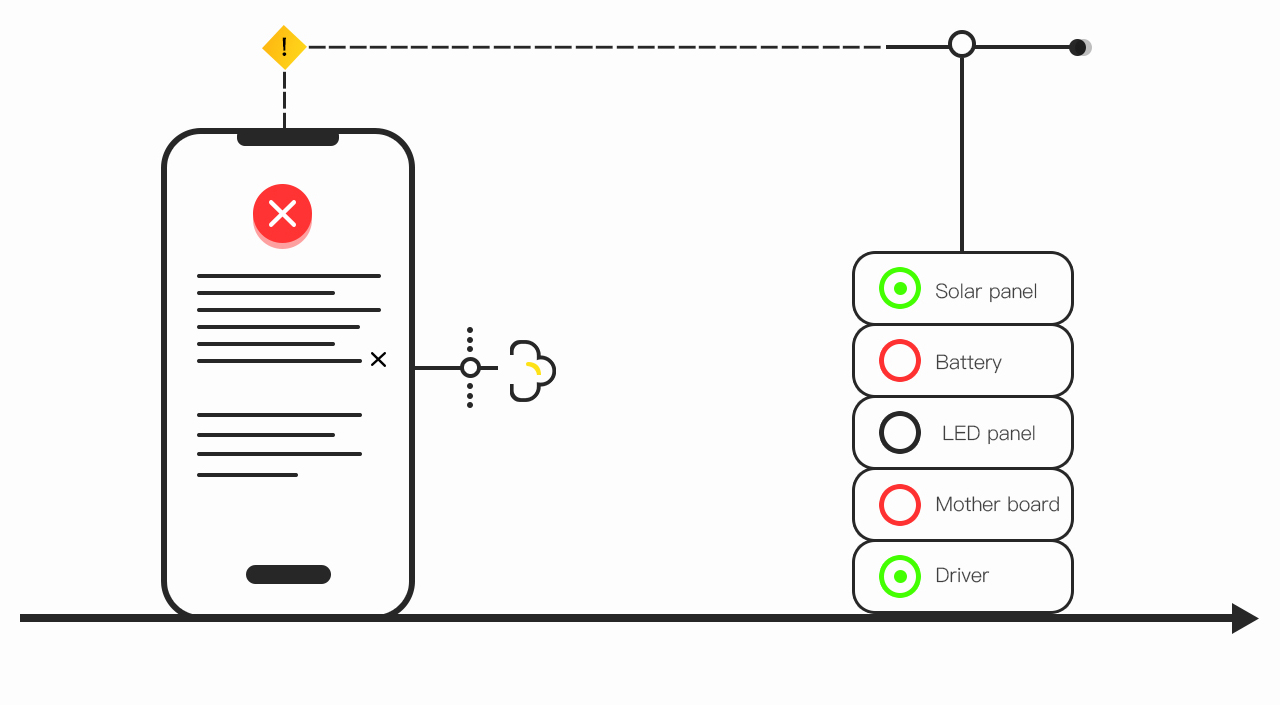 In order to allow the product to be used safely and prolong its service life in extremely hot and cold areas, the TCS technology developed by Sottlot can control the temperature of the battery, ensuring that the battery can maintain a normal temperature in extreme weather without compromising battery life. The technical principle of TCS is to use built-in TCS-specific battery pack technology and new thermal insulation materials to protect the battery, and to detect the temperature of the battery pack and control the charge and discharge of the battery through the TCS sensing device.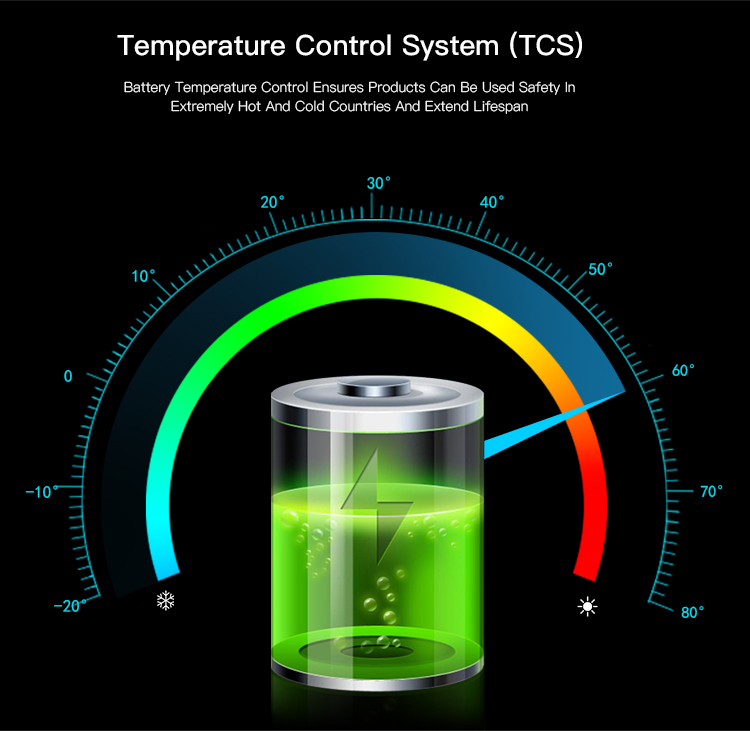 In line with the concept of "market-oriented, customer-centric" and to further strengthen customer management, Sottlot has also set up a professional sales team to provide first-class sales services to global customers, maintain timely communication with customers, and answer questions for customers confused. It is precisely because of the hard work and professionalism of the sales team that Sottlot continues to define its brand positioning in order to develop products that better meet customer expectations, create better services, and continuously improve its brand capabilities. We believe that high-quality service is part of the externalization of brand capabilities.
Sottlot firmly believes that smart home is the ladder leading to a high-quality life. Adhering to the professional of research and service attitude, Sottlot creates a smart home ecosystem for users. We also hope that more users can join Sottlot.