Sottlot is a new energy technology company that aims to provide smart home products for households around the world. Sottlot's full range of household products from lighting equipment to energy storage equipment provides a comprehensive solar intelligent lighting solution for the world. Among them, Solaraxy lighting series under Sottlot is a more powerful solar intelligent lighting equipment, focusing on providing lighting equipment solutions for high-end communities, villas, hotels and other large outdoor places; Adelot lighting series household lighting equipment, focusing on lighting design, this series The product is an intelligent lighting fixture developed for the purpose of creating atmosphere and mobilizing emotions. It is better at creating a comfortable, relaxing and leisure family atmosphere through the control of lighting, allowing you to enjoy a smart and warm family life every moment; Alpha energy storage The series is an energy storage device that integrates AI technology and solar-powered portable charging devices.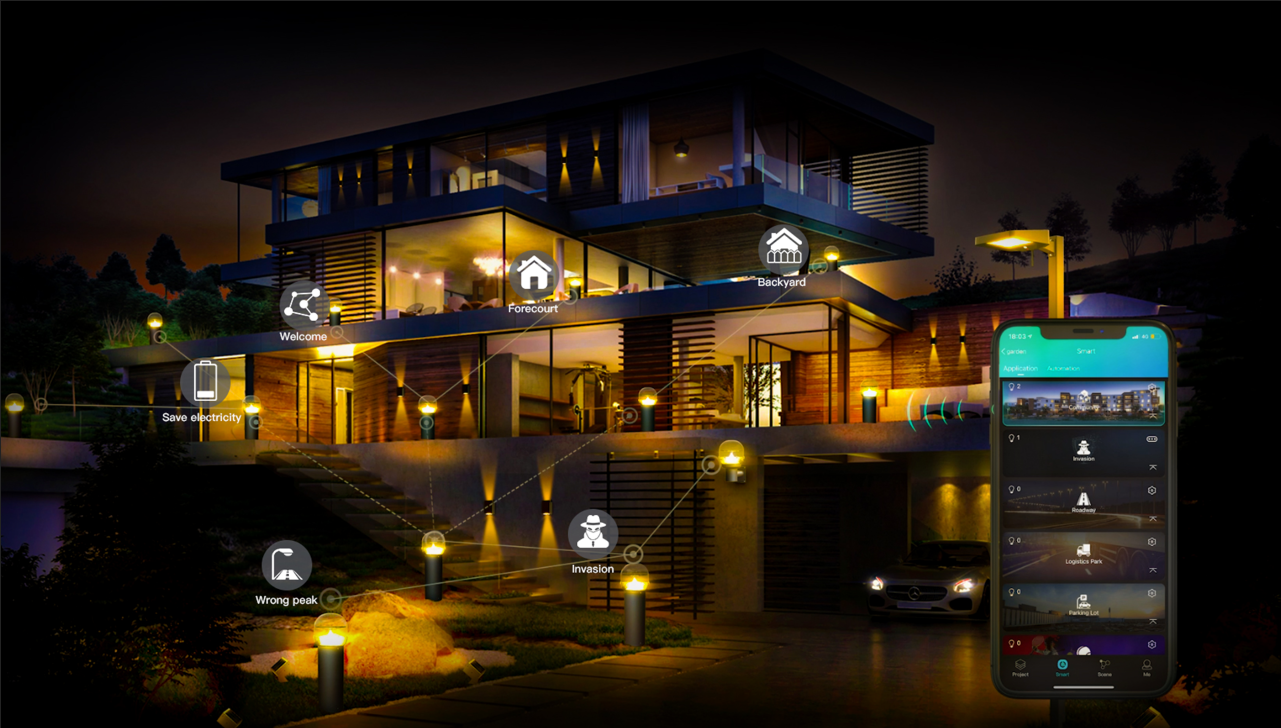 After a series of breakthroughs in equipment hardware and technology, Sottlot adheres to the concept of "smart life" and provides consumers with a smarter home life, and independently developed the Adelot app- sottlot smart lighting sysytem.This app uses the Bluetooth MESH one-key networking function to Low-power bluetooth mesh network, wake up all Adelot lamps, Alpha portable power stations, and security products of sottlot with one key, and connect them with one key, truly realize the interconnection of all things, and make products more intelligent with an unprecedented breakthrough in technical barriers.
To this end, Sottlot is also making continuous progress. With the advancement of technology and R&D, we have also implanted AI motion effects in combination with popular products, so that AI technology can cover all aspects from the product side to the system side.
Sottlot's product development thinking of "everything starts from the user" is also reflected in the application of the Adelot app. In addition to basic functions such as adjusting brightness, color, and real-time weather forecast, this app can also set custom scenes to let You can feel the beauty of intelligent life at your fingertips.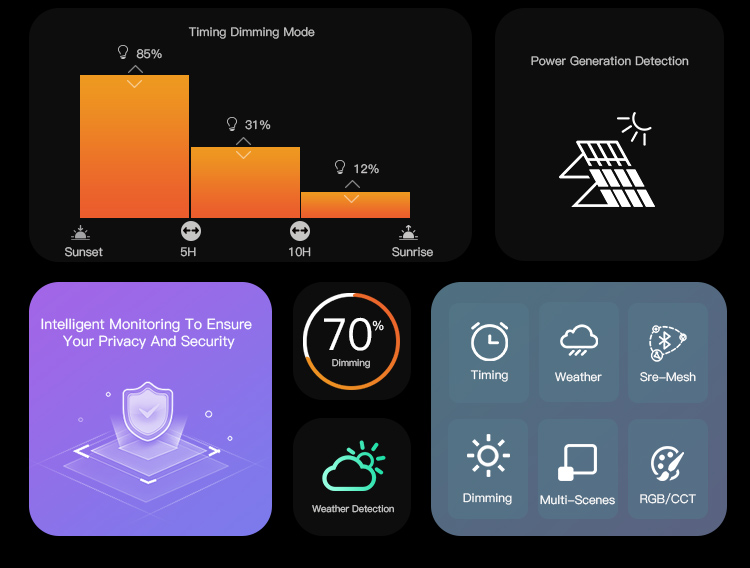 Different from other products on the market, the biggest feature of the Adelot app is its Bluetooth "one-click networking" function. After downloading our APP, adding all the lamps under sottlot, and networking through Bluetooth mesh 4.0, you can Adjust the brightness, lighting duration, color temperature and change the color of the lights in the app, and then combine and match the lights according to your own needs, and apply them to different scenarios; at the same time, with the gateway, you can also realize remote control, truly realizing intelligent life.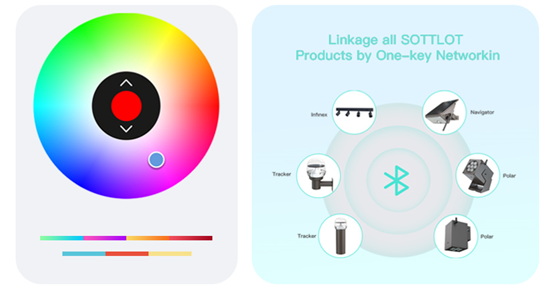 In order to respect people's living habits and create a variety of intelligent new interactions between people and devices, the app has set up automatic tracking mode, intrusion mode, welcome mode, power saving mode, peak shift mode, etc. For example, when you turn on the automatic tracking mode, when a car or a person comes, the lights will light up one by one, gradually illuminating the whole road, taking into account the sense of lighting and ritual; when you turn on the intrusion mode, if a stranger invades your In the private area, the light will trigger an alarm and flash quickly to remind you and your family to pay attention to indoor precautions; when you turn on the welcome mode, the light will automatically turn up the brightness to welcome visitors…. This coordination the technology of lamps and apps is presented to users in a more practical, ingenious and humanized intelligent interaction way, so as to create a better user experience.
In the Adelot app, you can also customize a variety of scenes, add and set any scene mode you want at will, this scene can be any place equipped with Sottlot series equipment. According to the user's living status and their own light perception, the user can set the scene through the app to the most ideal atmosphere that he can feel. The fixed scenes in the Adelot app include meeting guests, reading, dining, leisure, dance mode, etc. In addition to these, you can also add new temporary scenes independently, the app will automatically remember the settings about the scene mode, and then when the same scene atmosphere is needed, you can open it with one click of the app. All the function settings of the App are tailored to the user's usage habits. This concept of intelligent service to people is our consistent concept.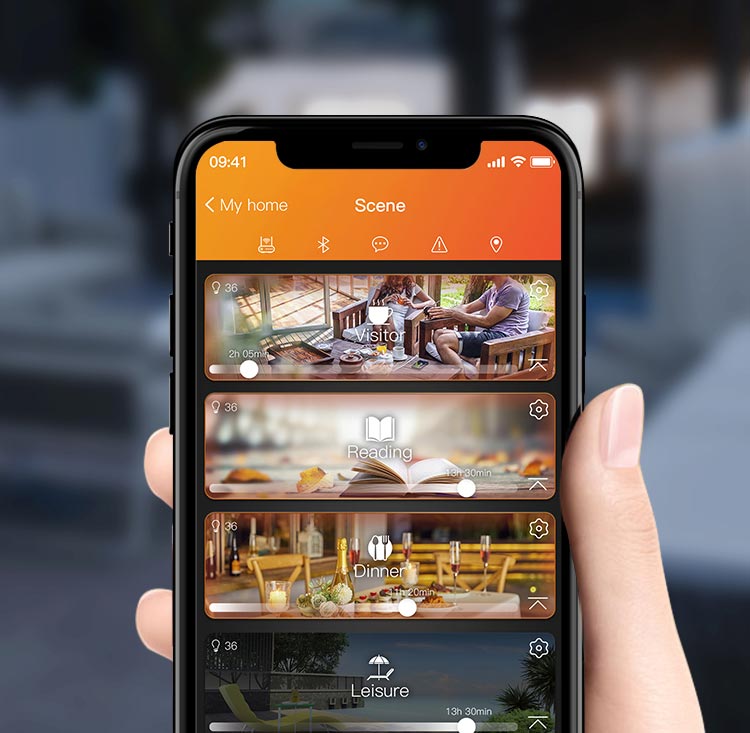 The social attributes of human beings determine the particularity of the way people live. A comfortable living environment is very important to people, it can make people feel happy and relaxed. Therefore, the birth of smart home meets people's growing living needs. Adelot series smart home products bring people a better life experience in terms of comfort, convenience and practicality.
As sociologist Mead said that it is only in a certain social environment that the mind can be expressed and can begin to exist. In the process of creating products, Sottlot is also conveying a concept of life to the public – building a comfortable and safe living environment for yourself and your family. When everyone is shouting the slogan "Intelligence makes life easier",Sottlot is a brand that truly realizes home automation. We tell you with an action: redefine your smart home life.
Smart home can let you live in the moment, and can also let your heart be expressed.