On April 12-15, 2023, SOTTLOT NEW ENERGY participated in the HKTDC Hongkong Electronics Fair held at the Hong Kong Convention and Exhibition Center, where the SOLARAXY series we brought was consulted by many overseas customers. The SOLARAXY series of smart solar lights have the advantages of novelty, smartness, and environmental protection. In recent years, they have been favored by European and American luxury houses, community parks, and major commercial plaza projects. SOLARAXY series lighting products focus on creating smart lighting in high-end communities, villas, hotels, and other home or commercial places.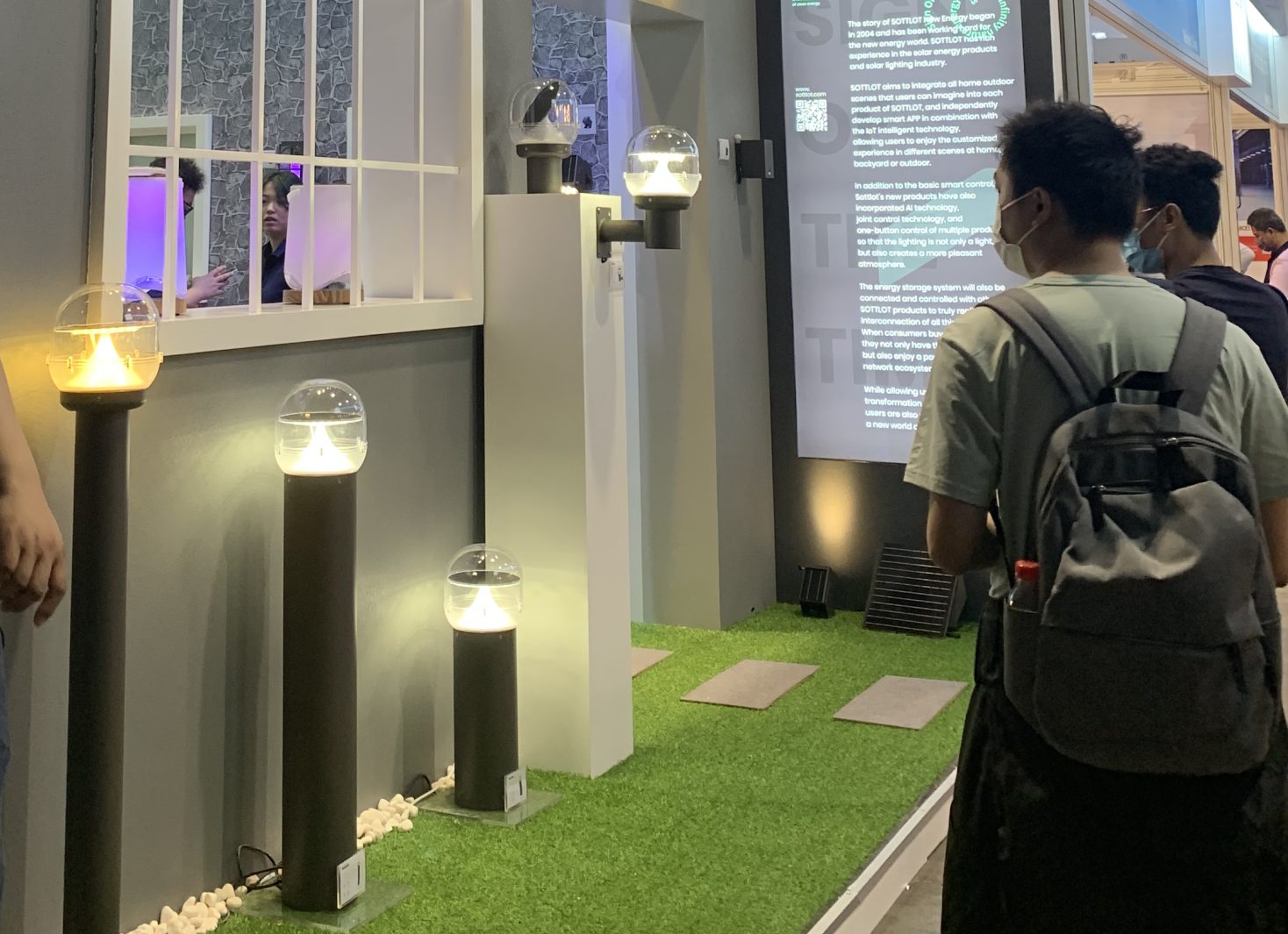 Tracker Bollard Post Light is one of the most eye-catching products in this exhibition. It is the world's first solar-powered AI 360° sun-tracking landscape light. It is different from most other products in the market and has three core highlights.
AI 360° intelligent tracking of the sun, improving charging efficiency by 30%
Tracker Bollard Post Light adopts the latest AI technology to calculate the maximum energy of the sun in real-time, track the position of the sun, realize the effect of 360° sun tracking, obtain the maximum power of the sun, and increase the charging efficiency by 30% compared with other similar products.
"Dark Sky" Eco-friendly Design
Dark Sky Eco-friendly Lighting is a lighting technology designed to help communities, parks, and reserves be more energy efficient and reduce light pollution. Tracker bollard post lights can be used in any residential and commercial setting and are especially useful for buyers looking for environmentally friendly lighting.
Lighting 7 days for rainy days
The exclusively developed Adaptive Lighting System (ALS)has obtained an international invention patent (Certificate NO.: 201710713248.6), which solves the problem of short battery life in the solar light industry. In cloudy, rainy, snowy, and other bad weather conditions, it can intelligently activate the ALS to provide continuous lighting for 7 days.
All of SOTTLOT NEW ENERGY's smart products can be intelligentized, and are more suitable for intelligent control and scene linkage of outdoor smart home products. It has functions such as outdoor multi-scene control, one-key joint control of 99 lights, etc., to achieve more personalized customized lighting and manage lights more efficiently, redefining the new concept of the smart outdoors.
SOTTLOT NEW ENERGY design from Europe and European quality standards, passed CE, FCC, RoHS, ISO, BSCI international certification; currently has obtained ALS, TCS, FAS international patented technology, has independent research and development core technology, has core competitiveness in the high-end market, welcome all customers to come to the booth (Booth NO.: 1C-D26) visit and exchange.